Single-disc drills TURBOSEM
Turbosem air-drill is a multi-functional seeding machine, which is intended for direct seeding.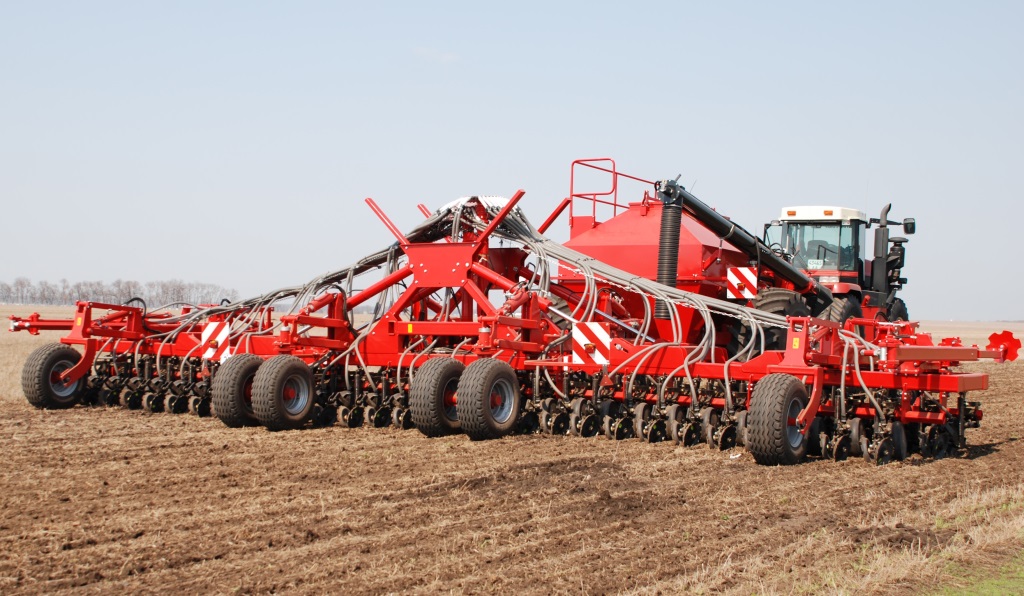 It performs uniform seed placement due to the opener's design, which allows to follow the soil contour.

The machine can place seeds regardless of previous soil tillage (conventional, mini-till and no-till).

Suitable for different crops: cereals, small grains, row-crops.

This machine is capable of applying dry fertilizers together with seeds and separately.

Mobile and portable drills Turbosem 19-32 and Turbosem 19-40 feature low energy consumption. Thus, they can be pulled by tractors with a horsepower rating starting from as low as 150 h.p. This is an ideal solution for small farms.
Turbosem drills feature high capacity and cost effectiveness along with simplicity and convenience in maintenance and use.

There are two types of Turbosem drills: wide drills Turbosem II (11.4 and 9.12 meters wide) and a compact drills Turbosem (6 and 7.63 meters wide).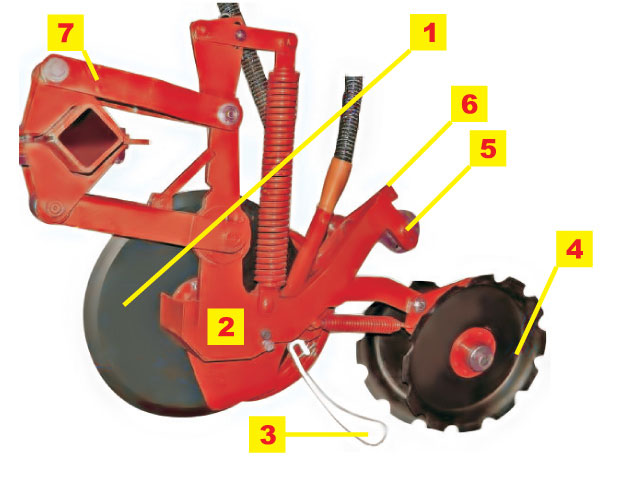 The drills are equipped with a single-disk opener.

The single-disk (1) creates a V-furrow to place seeds and fertilizers (2) at 3-4 cm depth with minimum soil disturbance, while a special press tool (3) ensures adequate seed-to-soil contact. The process is complete, when the furrow is closed with packing wheels (4).

A combined system of a single-disc (45) and a hoe allows to cut through residues and soil, establishing a uniform strip of seeds and fertilizers.

The cutting disc is equipped with a pressing tool, which ensures continuous removal of crop residues from the disc surface during seeding operation. This cleaning system allows to work in wet soil conditions, which extends the seeding window. Special press tool ensures adequate seed-to-soil contact.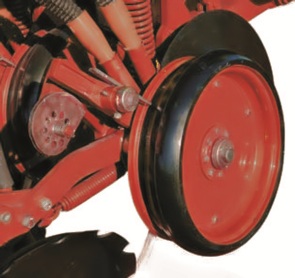 The opener is attached to the frame by a parallelogram (7), which allows to sustain perpendicularity related to the soil surface. Thus, the hoe part of the opener is always working at the same angle to the soil surface without compromising seeds and fertilizers placement.
Seeding depth control is performed by means of seeding depth control tool (5) and a leveling wheel with a rubber tire 3.3/4" х 15" and a steel rim for cleaning.

Initially developed for grain crops this model can also seed row-crops. This option is realized due to a technological solution – blocking of every other opener and a possibility to move the front row of openers for split fertilizer application (sideways and under the seeds).
| | | | | |
| --- | --- | --- | --- | --- |
| Specifications | Turbosem II 19-60 | Turbosem II 19-48 | Turbosem II 19-40 | Turbosem II 19-32 |
| Working width, m | 11,4 | 9,12 | 7,63 | 6 |
| Number of rows with openers | 2 | 2 | 2 | 2 |
| Number of seeding openers | 60 | 48 | 40 | 32 |
| Distance between openers, m | 0,19 | 0,19 | 0,19 | 0,19 |
| Tank volume, liters | 10 500 | 10 500 | 7 500 | 7 500 |
| Tank sections ratio (fertilizer/seeds) | 60/40 | 60/40 | 60/40 | 60/40 |
| Type of fertilizer | Dry | Dry | Dry | Dry |
| Transport width, m | 5,50 (3,64 - wheel track) | 5,50 (2,714 - wheel track) | 4,35 (2,23 - wheel track) | 4,35 (2,23 - wheel track) |
| Transport height, mм | 5,25 | 4,15 | 3,96 | 3,96 |
| Weight of the machine (w/o the tank), kg | 11 900 (без бункера) | 10 330 (без бункера) | 10 500 | 9 750 |
| Recommended seeding speed, km/h | 7-8 | >7-8 | 7-8 | 7-8 |
| Required tractor power, h.p. | 310-350 | 250-280 | 220-240 | 150-180 |