Metalwork
High-quality metalwork is very important for efficient operation of engineering, machine-building and construction companies.
Soyuz-SpecTechnics is a modern machine-building plant, which has been operating in the markets of EU and CIS for 18 years now. The plant manufactures metalwork of any complexity for any industry, such as:
- Machine-building (heavy engineering construction, agricultural machines, aircraft and ship engineering) – metal bodies, parts of machines and equipment;
- Energy sector;
- Construction of industrial and civil facilities – metal parts;
- Unit construction;
- Trade and warehousing – retail equipment and its fasteners (racks, shelves, metal furniture);
- Electronic engineering and instrument engineering – panels and housings.
Soyuz-SpecTechnics LLC builds the strategy of its development based on adoption of effective metal processing technologies using modern equipment and production management.
Production technologies and equipment:
• ISO 9001-2009
• Area of production – 9,000 m2
• Capacity of the plant: up to 1000 tons of processed metal per year
• Personnel: 140 workers and engineers
• Innovations: home-based R&D.
Laser cutting of metal
TruLaser 3040 system for laser cutting of metal produced by Trumpf Company (Germany). It allows to achieve accurate cutting of sheets (4 x 2 m) of ferrous materials (including bullet-proof steel), stainless steel, aluminum alloys (capable of processing sheets from 0.5 to 20 mm thick); set marks for further technological operations; cut engraving. It ensures high quality and precision of manufactured parts, high productivity level, reduces consumables use, production time, allows to manufacture parts with complex geometrical pattern, precisely follow the drawings.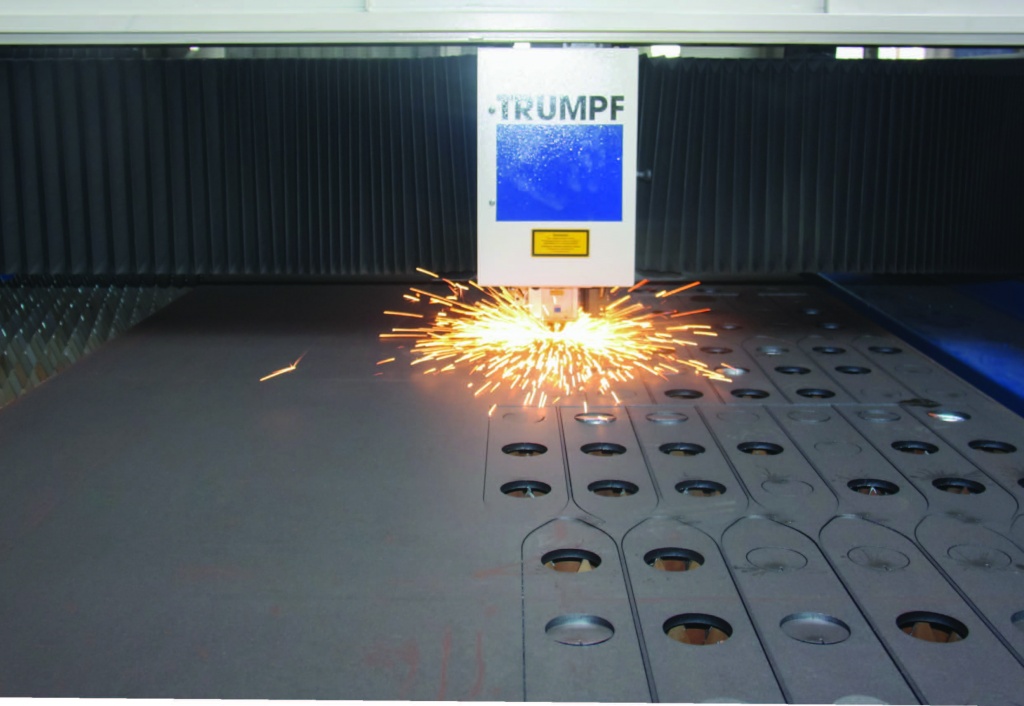 Precision metal bending
The Trumpf (Germany) press brake for free bending and folding. It allows to fold complicated metal profiles up to 3 m wide. Folding radius – from 1 mm to 40 mm. Metal thickness from 0.5 to 12 mm. It allows to produce various parts differing in terms of complexity and configuration; non-standard parts, solid metal structures that contain no welding seams. This will positively impact their durability, corrosion-resistance and longevity.
Production of welded metal structures
Powerful assembly and welding facility, which includes 30 welding centers equipped with welding semi-automatic machines FRONIUS (welding is performed in a medium of protection gases). High quality of welding is achieved due to rotating supports that allow to perform horizontal welding. Welding operations in a vertical plane,overhead welding. The assembly and welding facility is working under the principle of virtual conveyor line, which ensures flexibility and quick re-adjustment for production of new products.
Thermal treatment of metal
3-section chamber for thermal tempering of metal. The chamber allows to treat the parts 8 x 4 x 4 meters in size in order to relieve the internal stress, which occurs as a result of welding.
Mechanical treatment of parts
Shot blasting of metal (tunnel-type shot blasting machine Abrasive), high-quality and precise (200-300 microns) nesting of steel sheets (up to 100 mm thick), cutting of shaped pipes at any angle (with precision of up to 100 microns).
Painting and drying chamber
Application of protective anti-corrosion coating on metal parts is achieved using materials and technologies of leading European manufacturers (Lankwitzer Lackfabrik GmbH, Germany). The life of protection coating is equal to the operational life of a finished product.
Assembly and testing of finished products
Hi-Tech shop for assembly and testing of finished products equipped with hoisting and transportation devices and equipment. It allows to confirm the declared quality of produced products, check the efficiency of all the mechanisms that are part of the unit.
We are ready to provide high-quality, shortest possible lead time and flexible conditions of cooperation.
Рlease call:
+38(097)656-52-82
export@soyuz-st.com