Hoe-opener seeding complexes ATD
Hoe-opener seeding complexes "ATD" – is a resource-saving, multi-functional machine for sustainable farming that allows to obtain high yields and to restore soil fertility for profitable crop production in future.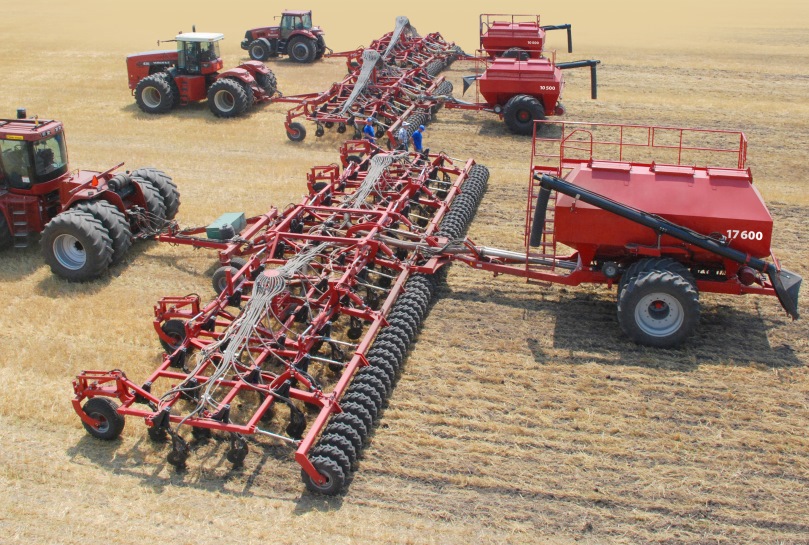 It performs several operations during one passage: seeding without prior soil tillage, application of dry and liquid fertilizer directly under the seedbed and packing (levels the soil in the seeding band).
Making all these operations during one passage reduces soil compaction, narrows the seeding window and saves POL products.

The machine can perform regardless of soil tillage history.

It can seed different types of seeds - cereals, large seeds and small seeds.

This drill can work in increased soil moisture conditions (no delays in seeding operations).

High reliability due to high-quality materials and simple design allow to cut costs on maintenance, adjustment, repair and servicing.

Easy to set-up for use.

High capacity - up to 20 ha/motor-hour due to high speed of seeding - up to 15 km/hour.

Narrowing of seeding window: 3,000 - 5,000 ha within 10 days (optimal agronomic period).

Reduction of costs by as much as 80% (POL – 30%; fertilizer – 30%; machinery fleet – 90%; labor – 3 times).

During 2003-2006 ATD 18.35 set several world planting records with simultaneous fertilizer application (spring barley - 571.9 ha/24 hours; sunflower - 667,2 ha/24 hours; corn - 740 ha/24 hours; winter wheat - 624.6 ha/24 hours).
The seeding complex ATD consists of an air-drill with four rows of openers, packing wheels and a bunker (for fertilizer and seeds).
The seeding complexes ATD are manufactured and supplied in three different working widths: 9.8 meters (ATD 9.35), 11.9 meters (ATD 11.35) и 18.2 meters (ATD 18.35).
Using the hydraulic unit each machine can fold to the transport width of 5.7 meters.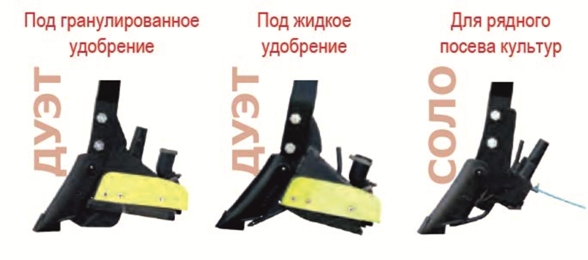 The twin row opener («Duet») ensures uniform broadband seeding at 18-20 cm with the seeding depth of up to 7 cm. This increases the nutritional area of each seedling in 3-4 times and improves yields.
This opener uses a system of simultaneous application of liquid or dry fertilizer. The system applies fertilizer 4-5 centimeters below the seeding horizon thus preventing the chemical burn of seeds. The opener can also apply seeds and dry fertilizers simultaneously thus reducing the costs of an agricultural producer.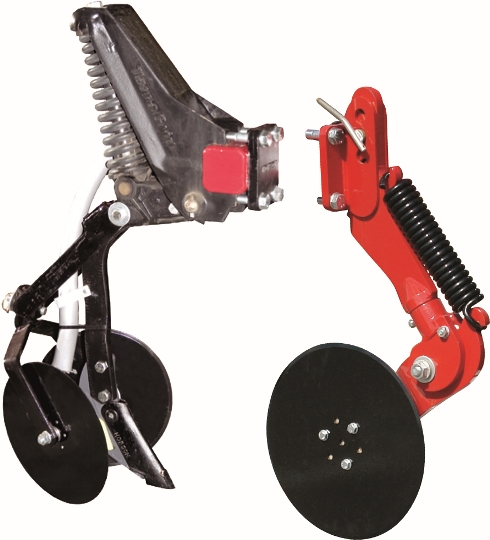 The openers are equipped with leveling discsthat return the soil back into the furrow resulting in further quality packing.

The drill is equipped with shanks, which protect openers from breakages. The body and the spring of the shank do not require servicing and adjustment during the whole period of air-drill use. The actuation force of shanks is 450 kg.

If fields are covered with a heavy layer of crop residues, the air-drills can be equipped with an optional cutting disc. The discs cut through large residues of corn and sunflower, ensuring quality seeding.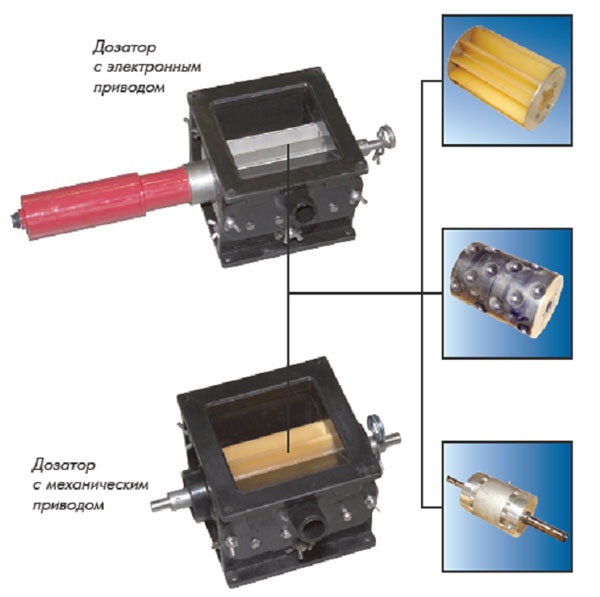 The drill is equipped with a pneumatic seeds metering and distribution system. The main parts of the system are seeds meter and seed flow sensors.
The housing of the meter is made of wear-resistant plastic. There are different rotors available for different types of seeds, which can be changed easily without tools and within several minutes.
The seeding unit is roller fed. It is equipped with several exchangeable reels, which allow to seed different seeds (grain size from 1 to 10 mm) on different soils.:
• Cereals (wheat, barley, oats, rye, triticale, sorghum, rice).
• Large seeds (corn, peas, beans, soybeans, sunflowers).
• Small seeds (grass mixtures, clovers, canola and alfalfa).
The metering system is manufactured in two options: with a mechanical drive (from a wheel) and with electric drive equipped with a system of electronic control and management.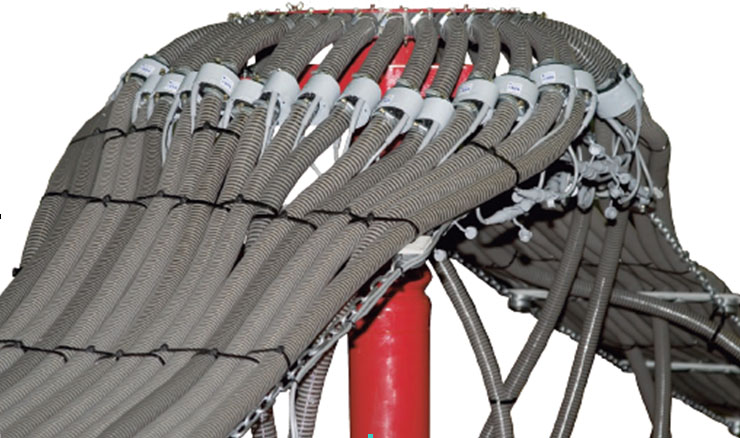 The seeds flow control system controls not only each seed pipe, but also each pneumatic hose for fertilizer application by means of special sensors installed on seed pipes, inside the grain bunker and on seeding meters.
Information about plugging of seed pipes or failures of the seeding meter is shown on a display in the tractor cab. This makes diagnostics easier and eliminates empty spots.
The system allows to control the level of commodity in the grain bunker, improving logistics of seeding.

The drill "ATD" is equipped with pneumatic packing wheels, which can work under very wet conditions due to pressure adjustment and special tread pattern that ensures self-cleaning of the wheels.
Each furrow is packed by a corresponding packing wheel; at the same time uniform pressure is exerted onto the soil across the whole width of the machine. This creates favorable conditions for germination of seeds.

The bunker for seeds and fertilizer is equipped with a self-loading auger, which allows to load grain into the bunker directly from a truck. The auger's capacity is 1.25 m3/minute..
The seeding complexes ATD can be equipped with a two sections bunker (10.5 m3, 12.1 m3, 17.0 m3) or a three sections bunker (12.7 m3, 17.6 m3).
| | | | |
| --- | --- | --- | --- |
| Specifications | ATD 18.35 | ATD 11.35 | ATD 9.35 |
| Working width, m | 18,20 | 11,90 | 9,80 |
| Number of rows with openers | 4 | 4 | 4 |
| Number of seeding openers | 52 | 34 | 28 |
| Distance between openers, m | 0,35 | 0,35 | 0,35 |
| Tank volume, liters | 17 600 | 10 500 | 10 500 |
| Tank sections ratio (fertilizer/seeds) | 40/30/30 | 60/40 | 60/40 |
| Type of fertilizers (basic) | Granules / Liquid | Granules / Liquid | Granules / Liquid |
| Size of tires of packing wheels | 7,5L-16 | 7,5L-16 | 7,5L-16 |
| Transport width | 5,8 | 5,8 | 5,8 |
| Transport height, m | 5,1 | 5,1 | 4,1 |
| Transport length, m | 17,85 | 14,30 | 14,30 |
| Field efficiency, ha/motor-hour | 14,6-21,8 | 9,5-14,2 | 7,2-11,2 |
| Recommended seeding speed, km/h | 10-15 | 10-15 | 10-15 |
| Required tractor power, h.p. | 500-535 | 410-435 | 320-350 |