Cultivators for solid soil tillage
Cultivators for soil surface tillage ASC - hese are versatile and efficient tools that perform both scheduled and pre-seeding soil tillage.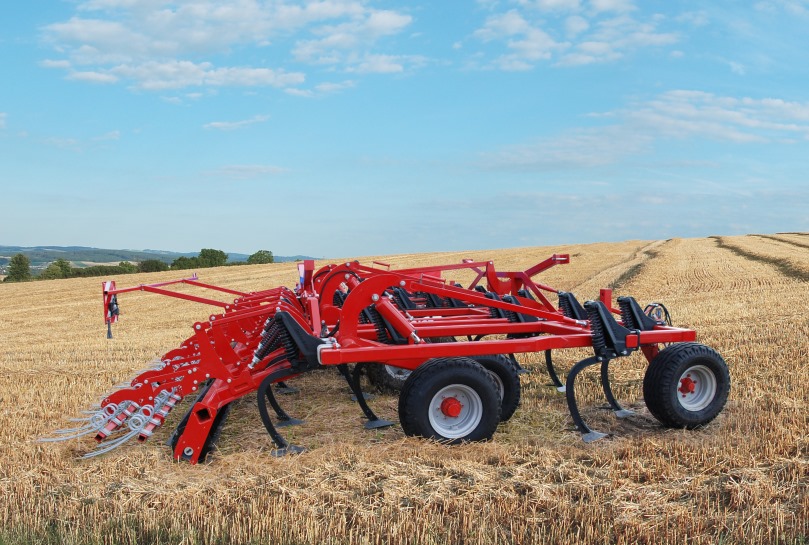 ASC cultivators allow to avoid intensive soil tillage and create a mulch residue layer on its surface.
High capacity – up to 400 ha per 24 hours.

Tillage depth – 5-18 cm.

Leveling soil surface.

Mechanical weed control.

Keeps more than 80% of crop residues on the soil surface to prevent erosion, silting, soil overheating and moisture evaporation.
ASC cultivators preserve natural soil structure and create ideal seeding environment.

ASC cultivators can be equipped with two types of tools: standard - 370mm wide sweeps; option - Mulch-Mix tool.

Sweeps for surface soil tillage.
The sweeps 370 mm and 410 mm (optional) wide enter the soil at 10-15 degrees angle and ensure full flat cutting (chisel bit effect) restoring the contact between the cut layer and the soil.
The sweeps are simple and reliable and can be used for any soil types.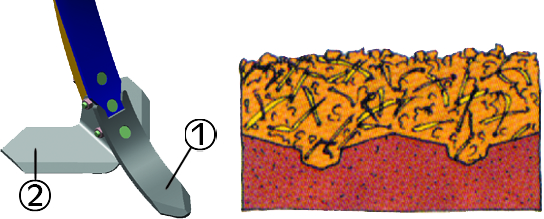 Mulch-Mix blades (optional) for deeper soil tillage..
The tip of the blade (1) and its guide plate (2) are intended for soil loosening at the depth of up to 28 cm. They offer improved mixing of crop residues with the soil surface compared to other blades. Due to long Mulch Mix's tip soil resistance during tillage is greatly reduced. Mulch-Mix are available in different tip, blade and wings sizes.

The 4-row mounting scheme offers 1.2 m distance between the blade rows, maintaining 30 cm distance between the blades.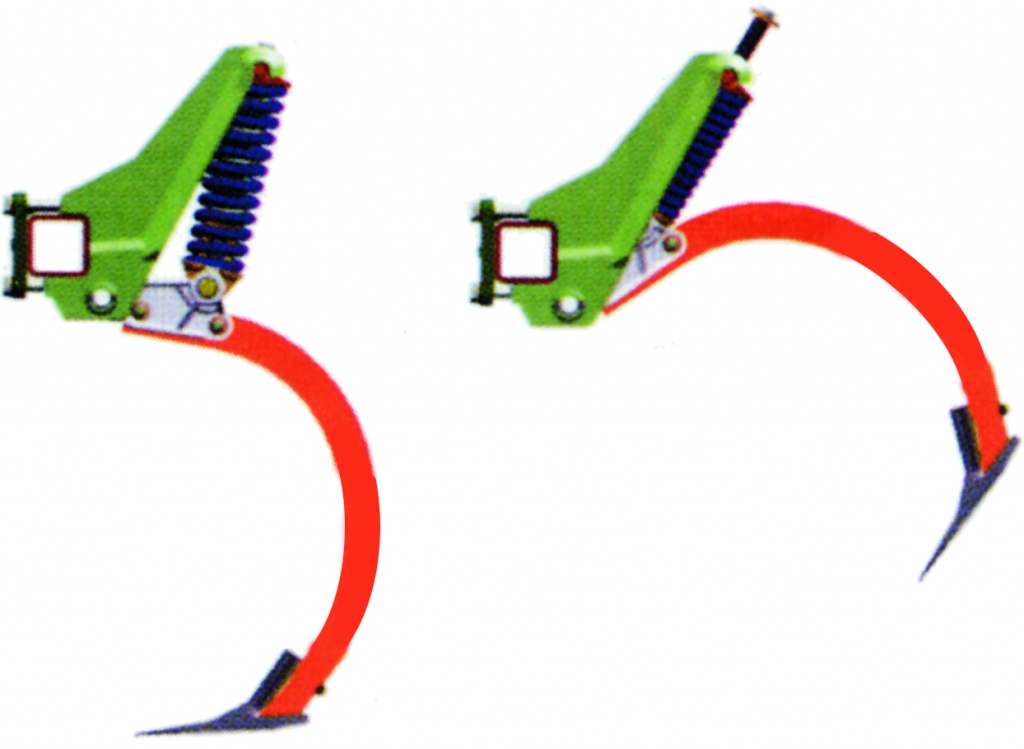 Features of the shank
Maintenance-free friction bearings.
Rotating elements can sustain high loads.
High clearance of the frame – 750 mm.
Obstacle avoidance – up to 250 mm high.
High resistance to obstacles.
The force of shank's actuation is 450 kg.
The shank is adjusted at the factory and doesn't need any further adjustments. Shanks and stands prevent the blades from breakages.
Strength and reliability of frame elements and tools fixtures makes this machine a reliable and long-lasting tool.
The 3-row spring harrow levels the soil surface, mixes crop residues and ensures their even distribution.
Depending on the environment, in which the cultivator works (soil hardness, amount of crop residues and availability of other vegetation in the field), the tine harrow can be easily adjusted in the field (height and angle of teeth) to ensure the best tillage efficiency.
Specifications
АSC 18.30
АSC 12.30
АSC 9.30
Working width, m
18,30
11,70
9,30
Number of blade rows
4
4
4
Number of cultivating blades
61
39
31
Distance between blades in a row, m
1,2
1,2
1,2
Distance between cultivating blades, m
0,3
0,3
0,3
Transport width, m
6,2
6,2
6,2
Transport length, m
8,3
8,3
8,3
Transport height, m
4,85
4,85
3,5
Required tractor power, h.p.
410-450 (500-550)
320-375 (375-435)
250-300 (280-330)