Quickly-built all-purpose hangars
Quickly, easily, reliably and not expensive – these are the indicators that each producer wants to achieve.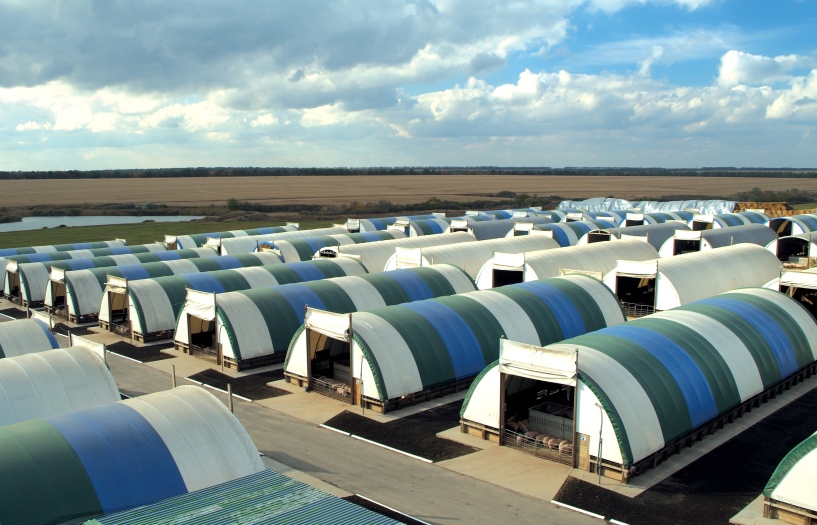 If your enterprise needs quickly-built and portable structures to store machinery, spare parts and grain; to house livestock or to hold exhibitions, conferences and seminars, consider the all-purpose hangars manufactured by Soyuz-SpecTechnics.

The quality and reliability of quickly-built tarpaulin-covered hangars are proven by more than 15-year experience of our customers.
High-quality quickly-built hangars can substitute any facility.

Light-weight and durable hangars are mobile and easy to use and service.

The customer may order a hangar of any size.

There is a wide assortment of auxiliary equipment to hangars (gates, doors, etc).

The hangars are manufactured using advanced equipment and high-quality materials.

Our enterprise provides services on supervision of installation (consultation on assembly).
Since 2001 sold more than 350 different hangars in CIS countries; the total area of facilities is 130,000 square meters; they are built in different climatic zones (Ukraine, Belarus, Russia and Kazakhstan).
The hangars of Soyuz-SpecTechnics are quickly-built pre-fabricated hoop shape structures that consist of steel work covered with tarpaulin.

We offer a wide assortment of hangars 9m, 11.6m, 17m, 22m and 32m wide. The customer may select any length of a hangar, but the width is standard.
The distance between steel structures may be changed for regions with different climatic conditions (except for 6m and 4m wide hangars).

Basic configuration includes steel structures (arches, trusses, supports, links, foundation) and tarpaulin.
The hangars are manufactured using precise machining stations. Welding is performed using protecting inert gases. The steel is thoroughly treated in a sand-blasting unit.

Types of foundations for hangars
The choice of foundation depends on the hangar's purpose, its location and the hangar's type.
The hangars can be sold without a foundation (if the customer has a suitable foundation for the hangar), on railway sleepers, on supports and on a support frame (pre-fabricated metal structure).
The widest selection of foundations is available for 9m and 11m wide hangars. Due to high loads, the 17m, 22m and 34m wide hangars are supplied on supports only.
A hangar without a foundation is the most cost-effective, while a hangar with a support frame is the most expensive.

Face edges
The structure of a hangar can be the following:
with open face edges,
with gates on one edge and one solid face edge,
with gates in both sides.
Should it be necessary, we can produce and install doors (wooden, aluminum) at any location (if the hangar's design allows it).

Based on the purpose of the hangar, there are different options of face edge cladding:
for warehouses and grain storages – tarpaulin face edge or profiled sheet,
for heat insulated hangars (office, gyms, etc) - tarpaulin face edge,
for livestock farms – blackboard, plywood, conveyor belt.
Options for gates:
Rollover tarpaulin gates
Swinging gates with a door
Rolling gates with a door
Sliding gates with a door
Electric shutter.
Advantages of tarpaulin covered hangars compared to conventional buildings:
The structure is simple and versatile; it is mobile and air-tight
The structure provides the necessary rigidity and operational reliability.
The hangars allow 3-4 times reduction of construction period
Due to the low frame weight the preparation of foundation becomes easier.
Very short lead time for component parts.
Short period of installation due to simple and reliable fastening of the structural elements (arches, trusses, foundation, tarpaulin).
2-3-fold reduction of construction costs at the same period of use.
The hangar can be moved from one place to another several times.
The tarpaulin reduces maintenance costs and allows maximum use of natural lighting.
High quality Canadian tarpaulin cover - is produced of fire-resistant polypropylene, which is resistant to disruption and external impacts. Special fiber provides UV-resistance.
Versatility of hangars of different sizes.
The hangar can be used for many purposes and at different locations depending on the specific needs of the business.
Advantages of cover:
100% recyclable.
Non-toxic (without plasticizer).
Not prone to molds (fungi).
Scentless.
Operating temperatures -60С to +70С.
Excellent UV-resistance.
Fire-resistance according to international standards.
Purpose of hangars:

Livestock farms
(cattle, dairy farms, pig farms).
Agricultural and rotation workers' facilities
Industrial buildings and workshops (with overhead cranes and any other hoisting equipment) and manufacturing facilities (including those that accommodate food production facilities).
Warehouses, warehousing facilities, storages
(terminals, port facilities, warehouses for pallets. wide-aisle hangars for planes, agricultural and military machines).
Exhibition pavilions
(versatile open-space premises, such as cinemas, entertainment facilities).
Administrative, office premises.
Gyms
(tennis courts, riding halls, gyms, swimming pools, arenas, skating rinks).
Car service stations, garages, parking lots, fire depot.
Sheds, market places.