Multipurpose air drill "PonTerra"
Multipurpose air drill PonTerra is a new development of our сompany. This is a multi-purpose machine that can be used for seeding without prior soil preparation, application of fertilizer. It can also be used as a cultivator and a deep ripper.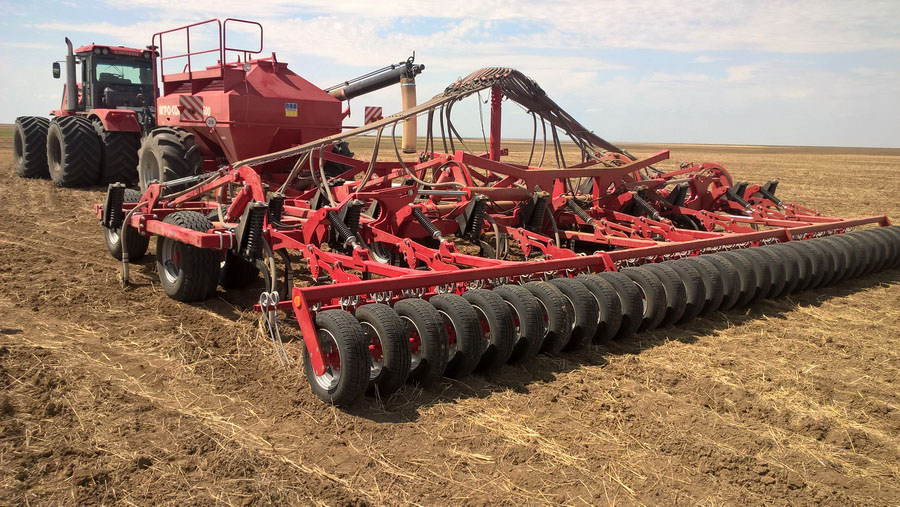 It performs several operations during one pass:
Seeding




Fertilizer application




Harrowing and weed control




100% weed cutting




Quality packing.
The drill is designed for all types of crops: from small grains (flax, canola, alfalfa, grasses) to large grains (sunflower, corn, peas, beans, soybeans).

Specially developed for heavy soils.

Can be used both for conventional and minimum-tillage.
Advantages of "PonTerra":
Performs solid seeding without row-spacing – each piece of land is occupied and works for your benefit.




High capacity – up to 180 ha per day.




The machine can be converted into a subsoil cultivator (tillage depth up to 34 cm).




Breaks large soil lumps and creates a fine soil structure.




The tine-harrow levels the soil, covers the furrow and performs weed control.




Mechanical weed control simultaneously with seeding operation.




The drill is equipped with an individual seed flow control on each opener.




Doesn't require large tractor.
The drill consists of:
Air-drill with 4 rows of openers

Tine harrow

Closing wheels (option - solid roller)

Bunker (for seeds and fertilizer)
PonTerra can be equipped with two types of working tools: either 370 mm sweeps (standard) or Mulch-Mix (option).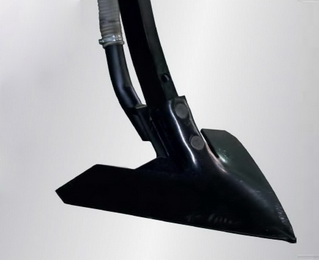 The sweeps are equipped with a new seed separator that allows to perform solid seeding without rows.
Moreover, the 370 mm sweeps are suitable for surface soil tillage. The sweeps enter the soil at 10-15° angle and ensure full flat cutting of the soil layer with further restoration of contact between the cut layer and the soil.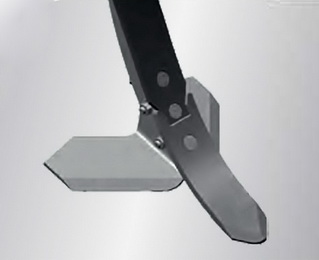 "Mulch-Mix" sweeps
РопТегга drill can be converted into a cultivator or subsoil cultivator (tillage depth up to 34 cm). The tip of the Mulch-Mixand its wings perform deep soil tillage (up to 28 cm) and ensure proper mixing of crop residues with the top soil layer compared to other tools.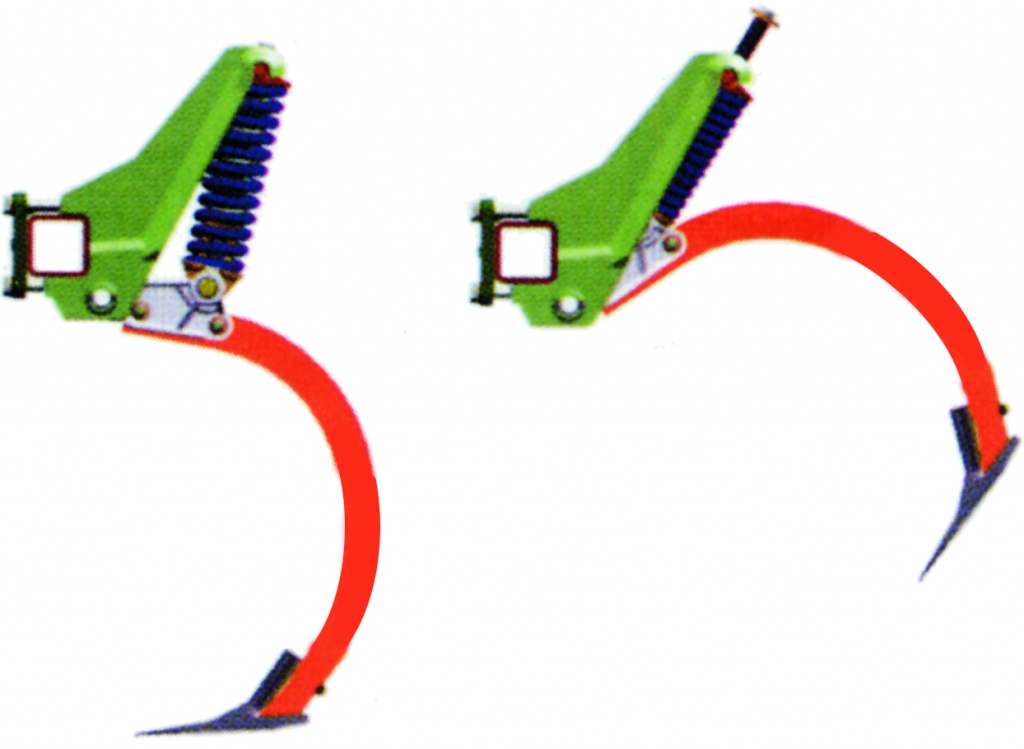 The shanks and supports protect the openers from breakages. The actuation force of shanks is 450 кg. This design allows to perform quality drilling at high travel speed (up to 15 km/h, which is two times higher compared to foreign analogues).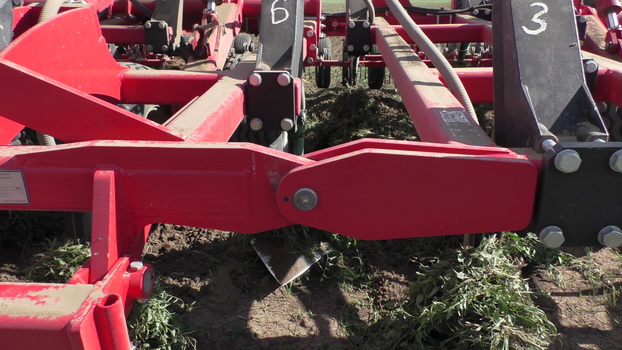 The drill's frame is made of 10 mm thick low-alloyed steel, which resists cyclic loads and ensures efficient operation on excessively compacted and heavy soils. Welding is performed on Italian equipment.
Strengthened wings attachment.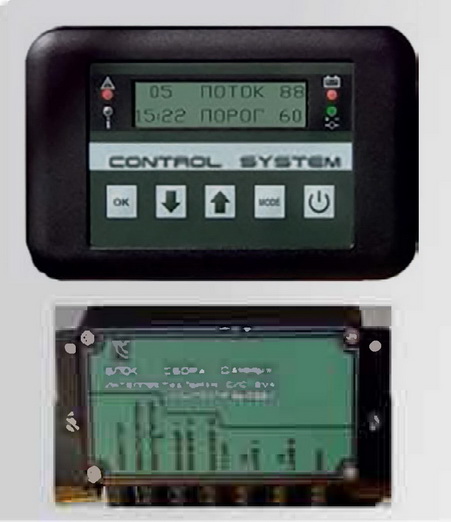 Seed meter allows quality seeding of any crop, maintaining accurate seeding rate.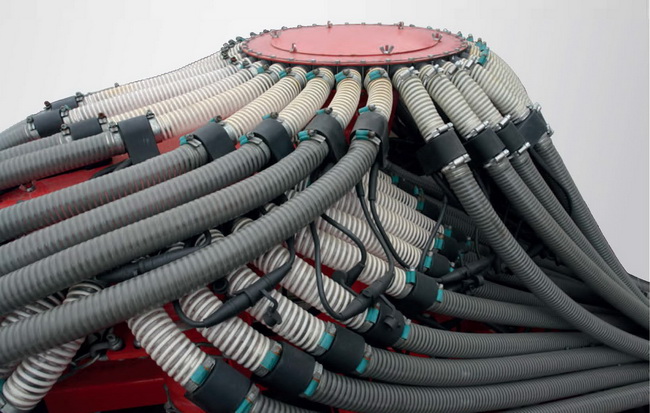 Seeding control system. Due to special sensors mounted inside seed tubes, in the grain cart and on seed meters, the system controls the flow of seeds through each seed tube. Information about failures, plugging and the level of bunker fill is transferred to LCD monitor located in the tractor cab. This improves logistics and the operator can promptly react to ensure quality seeding and prevent equipment breakages.
Bunker
The seeding complex is equipped with a 2-section grain cart (10.5 or 12.1 m3) with a powerful 10'' Italian auger (2 tons/minute), which allows to load material directly from delivery trucks and reduce the idle time when loading seeds and fertilizer.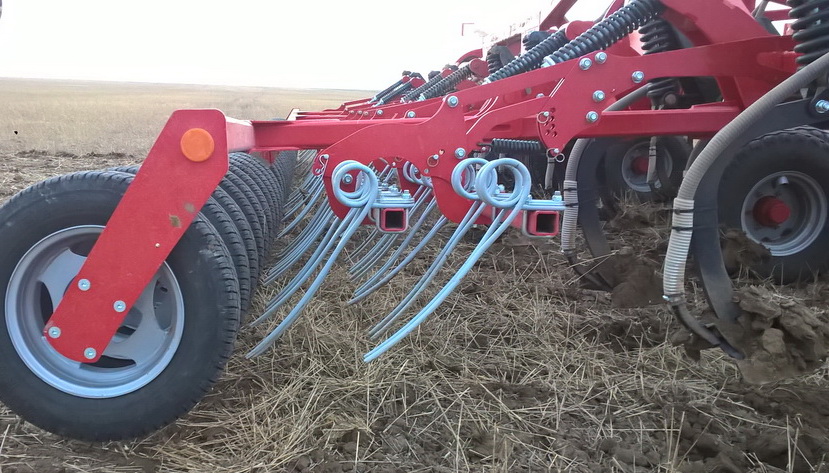 Two-row tine-harrow is intended to close the furrow during seeding operation and levels the soil surface. During the pre-seeding soil tillage it breaks soil lumps and creates fine soil structure. It also mixes crop residues with the soil and evenly distributes them in the soil profile.
Adjustment of down force.

Adjustment of approach angle.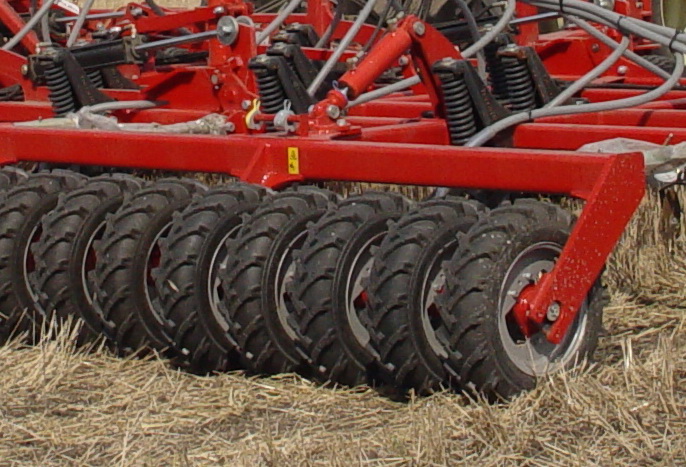 Packing wheels
РопТегга is using pneumatic packing wheels, which can work even under high moisture conditions. Special tread pattern ensures self-cleaning of wheels from mud accumulation. Each seeding band is packed by a corresponding packer, whereas uniform pressure is exerted onto the soil across the whole width of the machine.

This creates favorable conditions for vigorous seed germination.
Adjustment of down force.

Quick coupling/uncoupling to convert into a cultivator.
Options:

Rubber packer FARMFLEX® (France).
Ensures 100% covering, no channels. This is good for future harvest as the combine won't bump in the field; it will maintain high ground speed and harvest everything within optimum harvest window.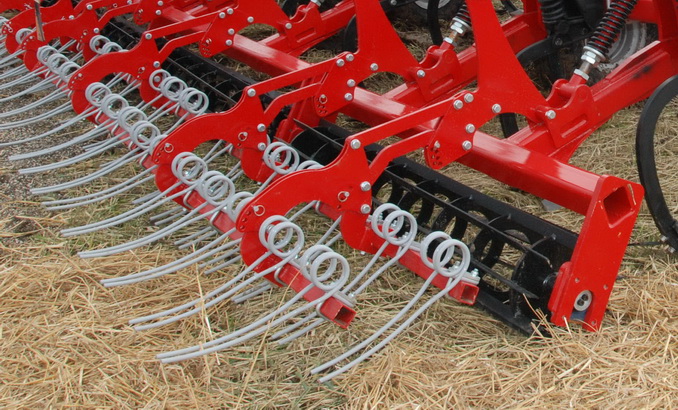 Packing roller (cultivator's option).
The slat-and-rib roller will crumble and level the soil as well as pack the walls and prepare the seedbed for seeding. This allows to avoid small furrows and ridges.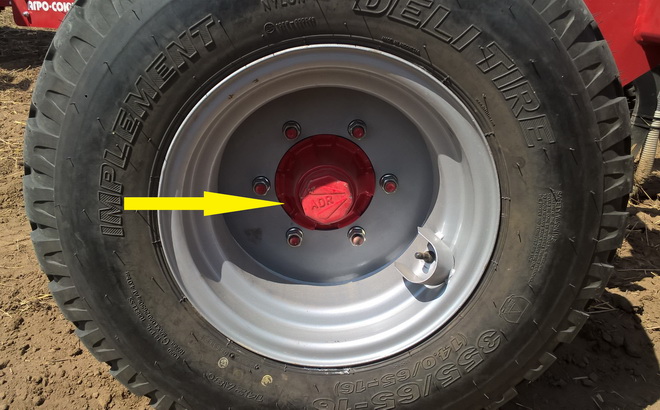 ADR (Italy) suspension and hubs
Reliability, fail safety, efficient operation in field conditions under high dynamic loads and in dusty environment.
The drill can work with any tractor.
PonTerra can be pulled both by foreign and domestically manufactured tractors.
Upon the customer's request the drill can be equipped with a self-contained engine or self-contained hydraulic system (to work with Kirovets tractors).
| | |
| --- | --- |
| Specifications | PonTerra |
| Working width, m | 9.3 |
| Number of opener rows | 4 |
| Number of seeding openers | 31 |
| Distance between the openers in a row, m | 1.2 |
| Bunker capacity, l | 10,500 или 12,100 |
| Weight of the drill (w/o bunker), kg | 9,950 |
| Fertilizers to seeds ratio inside the bunker, % | 60/40 |
| Type of fertilizers | Dry |
| Transport dimensions (width, height, length), m (with the bunker 10,500) | 6.2/3.7/14.85 |
| Required tractor power , h.p. | 270-350 |
| Capacity, ha/day | |
| - in the seeding mode | 160-180 |
| - in the subsoil tillage mode (tillage depth – up to 34 cm) | 110-130 |
| - in the cultivation mode (cultivation depth – up to 15 cm) | 180-200 |
During 2017 seeding campaing PonTerra drill got tested in live action on Kazakhstan farms. Read the comments about this machine below.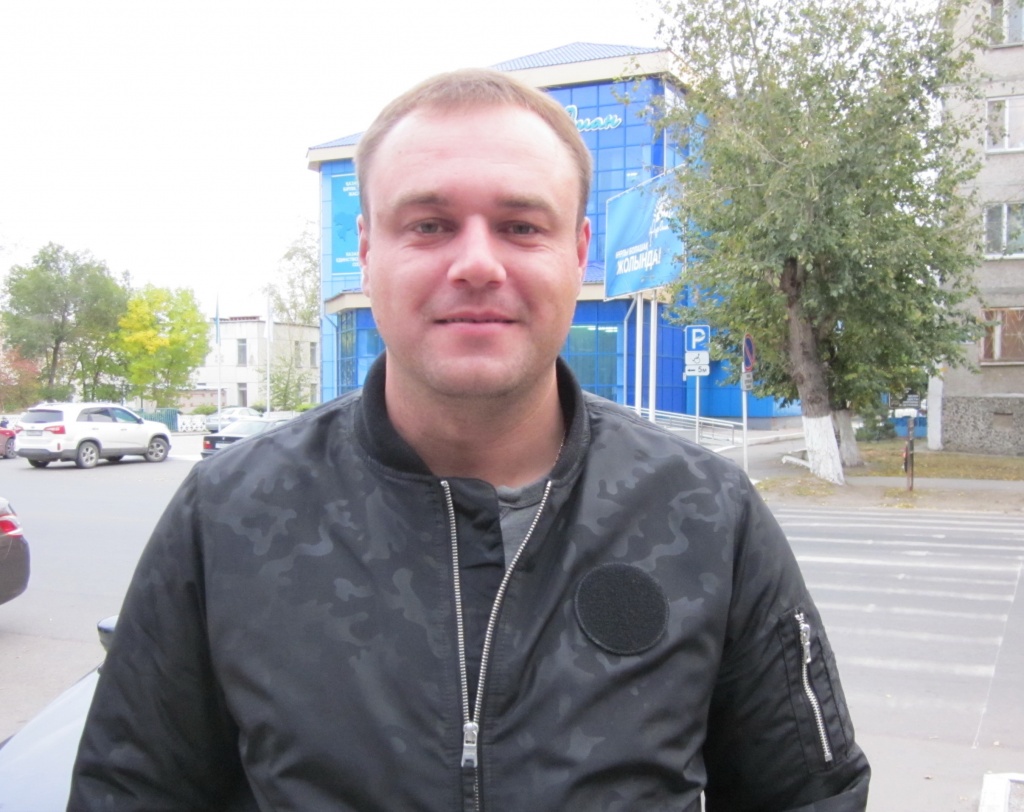 Sergey Govorov, Director of Semenovka-Agro LLP, Kostanay region:
- We farm 4,000 hectares. We use mini-till to grow our wheat and barley. Some fields are under fallow. We saw Agro-Soyuz's PonTerra at "KazAgro-2016". We explored its technical specifications and capabilities and took a decision to buy it. Our main argument was that it combines properties of both a drill and a cultivator. This spring we drilled our grain with a new machine (we used it both on stubble and on fallow). As a result we obtained even and vigorous stand (we used SZ and the competitor's seeder before, and the results were worse). I think PonTerra does a good job. I also want to appreciate the work of Agro-Soyuz's service team for their responsiveness.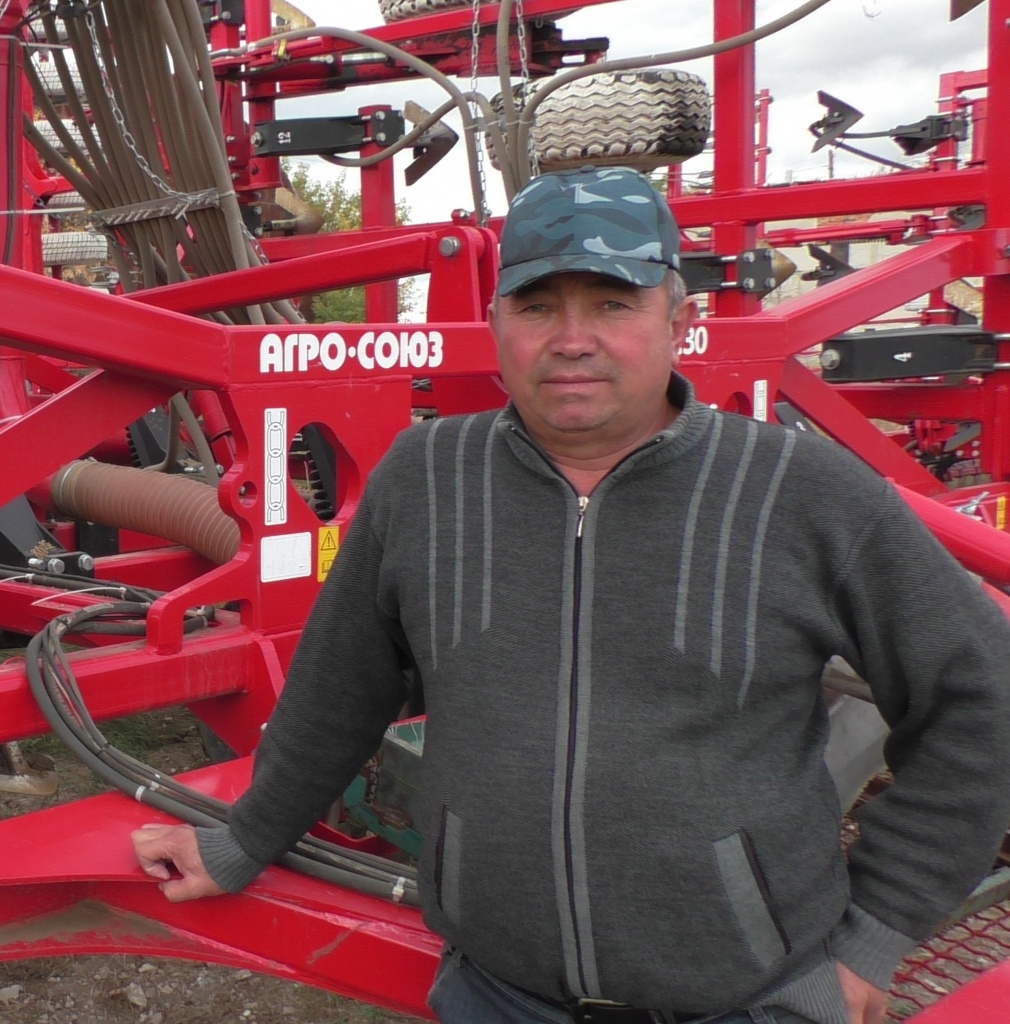 Kairat Zhamanbayev, machine operator of "ORLEY Corporation" LLP, Akmola region:
- Our company farms 2,000 hectares; we use conventional tillage to produce our crops. As a machinery operator I'd like to say: What is important for me is capacity of the drill and no idle time, as I am paid based on the number of hectares that I seed. We've used Agro-Soyuz's machinery for a long time. We've got a 12-meter ATD machine that has been in use since 2013. This year we've purchased PonTerra drill. The machine performed well during the seeding campaign. It covered 160 hectares within 24 hours without any downtime and breakages. This is a powerful tool! Just as you need it! Recommend it!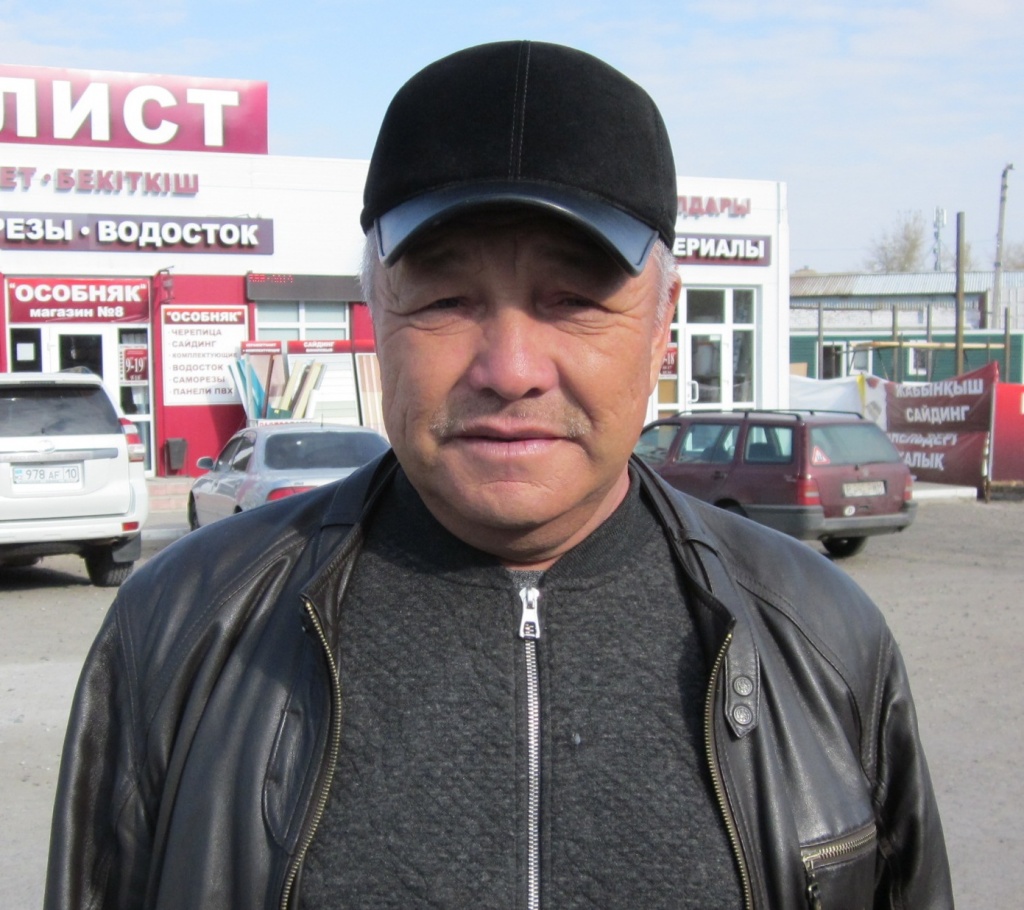 Myrzagali Orkashbayev, "Omir 2005" LLP, Kostanay region:
- We farm 6,200 hectares; our crop rotation consists of mainly grain crops: wheat, barley, oats. We are partially in no-till and partially in mini-till. Last year we went to the farm show in Astana to shop for machinery. We saw PonTerra at Agro-Soyuz's booth. We sat down with our engineer and started exploring its specifications. Then we understood that it will be good for our environment. And the price is affordable.
We drilled our 2017 crop with this machine. We liked its capacity; steel quality is excellent. By the way, we didn't use fancy machines before. Just worked on SZ machines. So, PonTerra is 1.5 times more efficient. The stand was uniform and vigorous. And more importantly, the average yield was 0.2 tons higher than the yield that we obtained with SZ. So, this new machine met our expectations.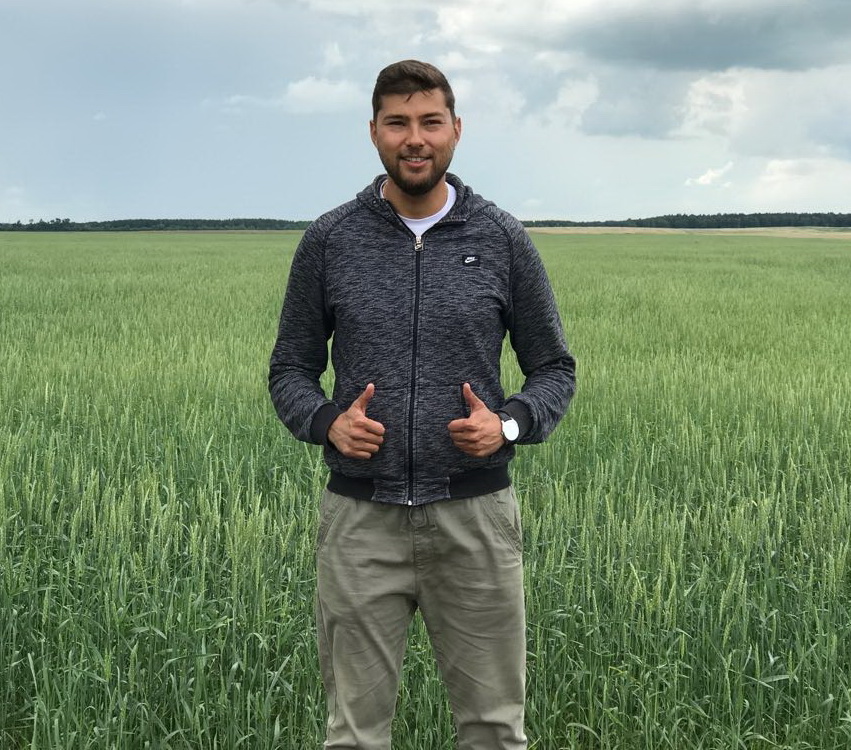 Alexander Nikulin, Director of "KosEl Agro", Akmola region:
- We are new to agricultural business. We took 4,500 hectares this year. We selected Agro-Soyuz's PonTerra because it doesn't require a powerful tractor; one machine can substitute three full-featured foreign machines, i.e. a drill, a cultivator and a subsoiler; and it is very affordable. Our 2017 seeding campaign was good and we are happy with our purchase. Next year we will be using PonTerra for oilseed and legume crops. By the way, this is another advantage of the machine. It is important that the machine can drill various crops; and you don't need to invest into other drills.