Single-disc grain seeder MD 19-40
Mechanic grain seeder MD 19-40 is equipped with a single-disc opener (a system, similar to Turbosem). This machine is intended for No-till seeding.
It ensures high seeding quality due to soil following; maintains even seeding depth and quality furrow closing.

The machine is intended for grain and small-grain crops and allows simultaneous application of mineral fertilizer.

It is possible to block any opener (to plant row-crops).

The machine ensures even seed placement due to herringbone meters that provide high seeding quality.

It is not heavy and thus, it doesn't create extra soil compaction, thus making further field operations easier.

It doesn't require powerful tractors; it can be pulled by tractors with a horsepower rating starting from as low as 200 h.p.

Simple design; easy set-up and operation reduce the number of calls to customer service, thus cutting the maintenance costs.

Transportation is longitudinal, which allows to optimize logistics during the seeding campaign due to reduction of transport dimensions.
The drill can be equipped with markers and seed flow control systems (optional).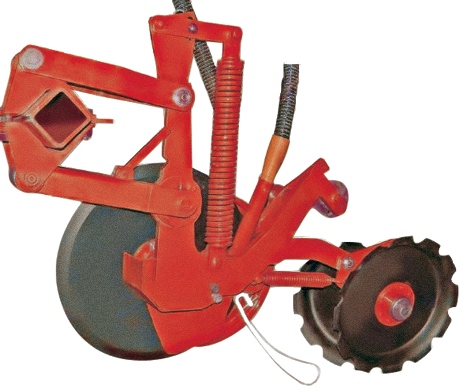 The single-disc opener is attached to the frame by a parallelogram, which allows to sustain perpendicularity related to the soil surface. Thus, the hoe part of the opener is always working at the same angle to the soil surface without compromising seeds and fertilizers placement.

A combined system of a single-disc Ø 45 cm and a hoe allows to cut through residues and soil, establishing a uniform strip of seeds and fertilizers.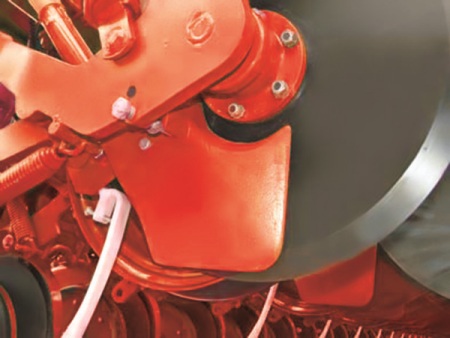 The cutting disc is equipped with an pressing tool with a spring system, which ensures continuous contact with a disc, thus removing crop residues between them.
The disc is sitting on a forged steel beam with double taper bearings and is welded to a locking device.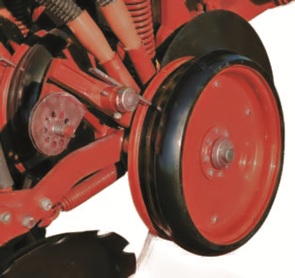 Seeding depth control is ensured through a support wheel with a metal rim for easy cleaning.

Seed firmer ensures good seed-to-soil contact and uniformity of seeding.

Closing tooth (packing) wheels close the furrow.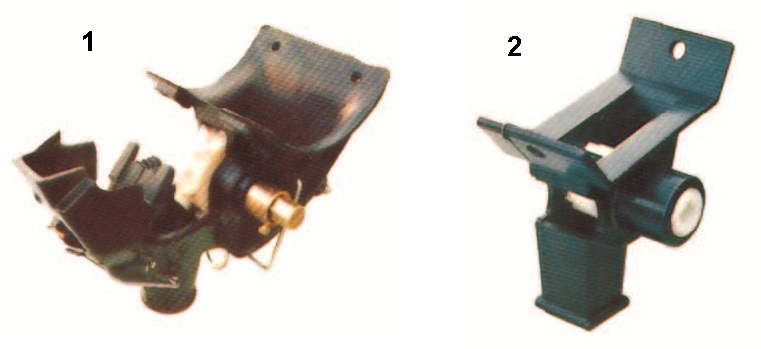 Each opener is equipped with a separate metering unit that is attached to the bottom part of the bunker.
The metering units may vary depending on their purpose: for fertilizers and seeds (1 - with a herringbone shaft) and for small-grain (2 - wavy roller).
The herringbone shaft allows uniform feeding of seeds and fertilizers via separate independent channels.
The seeding rate is adjusted by means of an independent gearbox with 27 speed levels.
Specifications
MD 19-40
Working width, m
7,6
Number of rows with openers
2
Number of seeding openers
40
Distance between openers, m
0,19
Tank volume, liters
seedа 1 800 (2*900)
fertilizer 1 800 (2*900
small grain 240 (4*60)
Transport width, m
4,6
Transport length, m
11,00
Transport height, m
3,4
Weight of the machine, kg
10 000
Recommended seeding speed, km/h
7-8
Required tractor power, h.p.
200-220